NOT into reading? LISTEN to the audio version instead! ( Or listen to me narrate along as you read the text below. Best of both worlds? #AudioBlog)
2020 will never be forgotten politically.
We entered a new era because of COVID-19.
Joe Biden's pick of Kamala Harris as VP was historic.
And I…had a job traveling on behalf of a major 2020 Presidential Campaign (well, until COVID ended large gatherings.)
What? Confused?
Yeahh…I kept it off social media. Only my close friends knew.
Well, until today. It felt like it was a fitting life experience to reflect on this week, since politics has been on the mind with Biden's VP announcement (and the DNC is this week. It just makes logical sense.)
And while it was a great life experience and opportunity and a rare chance to do something truly special… I actually almost didn't take the job.
Yep. I was…conflicted.
Backstory: My friend René had joined the campaign early on as Deputy Campaign Manager; she knew of my background in journalism and entertainment, and we had discussed the idea of me joining the campaign in some capacity.
I had hoped for an opportunity to come through in 2019, but had let go of the idea of it by 2020. It was the 'day job' I had wanted in the LA campaign office while working on my creative pursuits. A day job with a purpose, I thought. Help a cause, learn new things, but primarily focus on entertainment pursuits here in LA.
So when I received a call on February 1, 2020 to start a job traveling on behalf of the campaign as part of the Advance Team the following week…I was excited?
But also – completely thrown off.
Sure I love new experiences, but…I was fully in "creative" SK mode at that point. A completely different headspace. At the time, I was focused on trying to figure out what to do with a short-form series I had spent months writing after a sudden change forced me to re-evaluate its potential.
You want me to join a presidential campaign now? And travel around the country?
It sounds cool, but…my brain had many concerns.
Will it affect my life as a creative? Will it delay my plans/my timeline?? I don't want to be a politician (at least right now. No one really knows what the future holds. Never say never to anything.)
Honestly, there was even a slight part of me that was hesitant because I was concerned about it being too 'off-brand' – I had deliberately attempted to distance myself from my previous life in news, and because I covered politics extensively, politics ended up getting lumped into that identity (current me actually cringes even admitting concern over this, but…I guess that just shows growth?)
If I was in touch with my Inner Voice six months ago, the conversation would have probably gone like this:
INNER VOICE: How would working for the Bernie campaign challenge an aspect of your identity?

SK: I'm trying to be viewed as a strictly a creative. Not a hint of old journalist SK.

INNER VOICE: Are you not creative on the campaign?

SK: I mean I'm not making videos or writing clever speeches. There's no content creation.

INNER VOICE: Are you not helping to create events and experiences from scratch?

SK: Right. But that's an event planner.

INNER VOICE: You are CREATING something from nothing. That is creation.

– hypothetical Inner Voice conversation if SK was enlightened in early 2020
In reality though, I was far from "self-exploration SK" back then. So instead, it was just a nonchalant comment by my friend René who made me realize that putting together events is literally the same as throwing together a film shoot (which is exactly what I'd been trying to sort out at that time.)
So. Though I considered not taking this opportunity, simply because I was worried it was going to distract me from my creative pursuits, I instead opted to communicate with the higher ups…which relieved me of any anxiety I had. Their understanding and willingness to be flexible, given my own life commitments, is something that reassured me that I could do this.
So…I joined the campaign.
And it was everything.
Sure, traveling around the country, and learning the inner workings of presidential campaign events was great in general – but there was a certain magic about being with this campaign specifically: seeing people from all walks of life come out to be a part of a "revolution" and so many people volunteering their time simply because they believed in a shared purpose.
People who saw someone who took his position as a "politician" and let the issues that he was passionate about drive his platform. It wasn't about being famous or attaining the title of POTUS – it was about ensuring that issues of importance, issues that were often overlooked, were communicated to the masses.
And it resonated. It was proof that when you're real, ­the passion you have for the authentic issues you care about is just infectious.
It was magical to witness.
It makes you believe in something larger than yourself.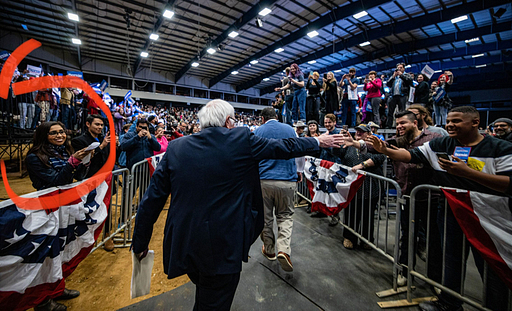 LESSON 1: Trust the timing of your life. Life knows more than you do. Life gives you the experiences that you don't know you yet need, for a future you are unaware of.
When I started writing this blog post, I thought the lesson was only going to be about how you should trust the timing of your life. An unexpected arrival can be a blessing in disguise, a once-in-a-lifetime opportunity.
And, while true, as I sit and reflect on that experience and my own evolution this summer, as I reprioritize and focus on what I truly value (isn't that what everyone did in quarantine this summer?) I realize… there's a much bigger lesson to be learned from that campaign specifically.
LESSON 2: Combine passion and purpose in whatever you embark on. That's where the magic is. When your cause is something bigger than yourself. That's when you get others to believe, too.
A couple months ago, I was in a heavy state of reflection, thinking about life, purpose, goals and where to focus moving forward – wondering if this whole Hollywood pursuit was worth it.
Did it matter? Was it all just frivolous and superficial? What's the point of it all, really? Questions that were ever present in my mind, especially because of issues I had been personally dealing with. There were greater causes in the world to put my energy toward, I thought. And those causes were more present in my life, causes I couldn't really avoid or pretend weren't there. The idea of just doing "Hollywood" stuff felt…I dunno. Shallow? Trivial? Just…not…real.
It was clearly a topic that was weighing on me, as multiple poems just sort of popped up in my head on this issue (I do have the same birthday as Maya Angelou, remember? I might have to pivot to 'poet' if this keeps happening.) I wrote a few down, including this one:
Look at Me
I used to be ambitious,
And I'm questioning how I feel.
I know it's still important,
But I'm not sure what's even real.
I love to strive for things,
And have a plan in place.
But what's the point of all of it,
At the end of this damn race?
Will I like the fame and fortune,
But loathe what it actually took?
My happiness, my joy, my friends and all,
Just to say come take a look?
Look at me at this event,
Look at me with this cool thing.
Look at me I have some stuff,
But really it means…nothing.
Before making any drastic decisions, I sat, pondered and observed my life as it unfolded in June and July.
And it unfolded…perfectly (I did say earlier that you should trust the timing of your life, didn't I?) By just paying attention to my life experiences – good and bad – I suddenly had creative insight into how to make a project that, like the Bernie campaign, truly had a purpose beyond myself. Something I believed in. Something I was deeply emotionally invested in. Something that was just a core part of who I was.
So I started writing out this new vision. And suddenly – everything made sense. The dots connected. It felt like…magic. The kind of magic I felt when working on the campaign – knowing that this idea is something I needed to pursue. It wasn't about me anymore. It was bigger than that.
I had found my 'Bernie' way of doing things: the way to combine my creative inclinations and storytelling ability with my desire to contribute to society on a larger scale. Basically…passion meets purpose.
And hopefully it works out. But…it might not. Either way, I have to try. Just like Bernie did. Because it was never about him being President. It was about him using his platform to present a message that was bigger than just attaining a title. And for me, it's not about being "famous" (because virality and followers have never been my driving force) – it's about using my own skillset to address issues of importance; something that connected to my heart, my truth, and my reality.
Looking back…it's funny to think I almost didn't join the campaign. To think I was conflicted, worried it'd distract me from my creative pursuits, when in reality, being witness to a campaign that operated from such a purpose-driven place ultimately reflected exactly what my creative pursuits would become.
Recommended Listening: Alesso feat. Tove Lo Heroes
Anybody's got the power
They don't see it
'Cause they don't understand
Spin around and round for hours
You and me we got the world in our hands…We could be heroes
(Pretty straightforward. We could be heroes…if we combine passion and purpose, and pursue something larger than ourselves. Enjoy. I'll see you guys next week. — 💜SK)
P.S. Because I'm a sucker for signs, I want to share this: while writing this blog I took a break and went on Facebook. Someone I went to high school with in Fresno posted a quote that said: "You have more in common with a homeless person than a billionaire." It just felt really fitting to read right now. So. Yeah. I guess it's probably a sign that this Bernie campaign post was the right blog to write today. (And that creatively, I'm on the right path.)
Advance Team in Cleveland (March 2020)
View from media riser in Dallas – a few hours before showtime
—-
ICYMI…PREVIOUS BLOG POST: Perfectionism Issues: What's Good Enough?
START THE JOURNEY FROM BLOG #1: Am I Too Scared To Start Things?
Questions? Comments? Suggestions? Email Samia Khan directly!