Joe Biden had an Aug. 1st deadline for announcing his VP.
He didn't stick to it.
Sometimes — as much as you show up to solve a problem by a certain time, you can't do it.
That is the case for this week's blog post. I had ideas. I free write every morning on my walks. But…nothing moved me enough to make the ideas permanent (i.e. on the Internet forever.) Maybe they were too personal? Or maybe I wanted there to be a more clear conflict (since khanflicted is the name of this blog.)
And rather than stress and get upset, I've just decided acceptance is the way to go. Trust I'll have something worthwhile next week.
Maybe it's just writers block. Maybe it's the fact that I feel I'm transitioning internally (or have gradually been doing so) and my old way of writing, the old themes and style, don't feel true anymore. Maybe because the girl who had curious banter with Inner Voice doesn't exist? And to fictionalize ignorance for the sake of blog dialogue is too fake for my liking. I dislike inauthenticity (which is likely to my detriment.) But who knows? I might have a genuine conflict that needs solving next week.
Anyway. Just like Biden on August 1st — I don't want to force a choice (yes, I'm aware the Veep choice is far more high stakes than my blog topic of the week, but just go with it.)
But…speaking of the 2020 Election. I did return to Fresno this weekend to cast my ballot. And more importantly, hang out with a candidate in person (socially distant hang, of course.)
Yes — my dear high school friend David Defrank is on the ballot.
(He shares the ballot with Kanye West, which I think is super cool – especially because David is the one who introduced me to Kanye's music back in 2004.)
So if you are a reader from the Fresno area, and you live in the Clovis Unified School District, vote for David.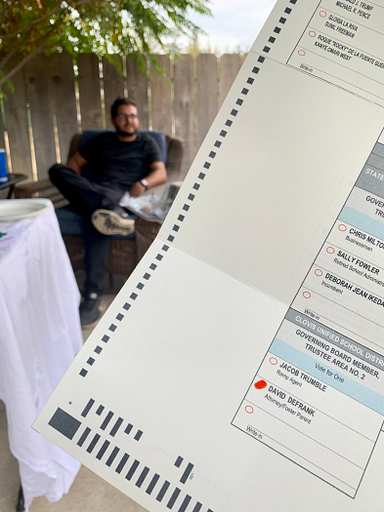 David Defrank in real life and on the ballot
As for this week's lesson? If you don't feel 100%, or even 90%… or heck, 80%…don't force it.
Well no wait. I take that back. Force yourself to get up and vote. Definitely force that. There's not much time left.
But as for everything else? Trust that in the right time, it will all come together (just like it did for Biden-Harris.)
Recommended Listening: Taylor Swift Blank Space
Nice to meet you, where you been?
I could show you incredible things
Magic, madness, heaven, sin
Saw you there and I thought
Oh my God, look at that face
You look like my next mistake
Love's a game, wanna play?
(Because my mind went blank when it came to loving a blog topic? Or because there are blank spaces to write in a candidate on the 2020 Election ballot? Either works. Enjoy. I'll see you guys next week. –💜SK)
—
ICYMI…PREVIOUS BLOG POST: Do You Trust Me? (A Lesson in Intuition)
START THE JOURNEY FROM BLOG #1: Am I Too Scared To Start Things?
Questions? Comments? Suggestions? Email Samia Khan directly!